The d-NOTAM project started on 01.12.2020. It is funded by the German Federal Ministry of Transport and Digital Infrastructure within the scope of the funding guideline Modernity Fund (mFUND).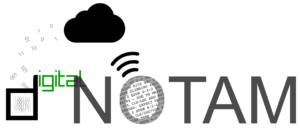 The aim of the project is to develop software assistance using the available basic data of the aeronautical infrastructure in order to completely digitize the NOTAM process. The NOTAMs can be processed automatically and displayed in a pilot's "navigation device" (Electronic Flight Bag – EFB). This reduces not only the risk of missing important NOTAMs, but also the pilot's workload in flight planning to a considerable extent.

For this project, m-click.aero will develop a SWIM compatible aeronautical data platform to provide the required airport infrastructure data and to generate and process the digital NOTAMs in AIXM 5.1 format. In cooperation with the project partners from BER Berlin Brandenburg Airport and HFC Human Factors Consult, the digital interfaces and services for data input and display are configured.
Our partner company HFC takes on the role of project coordinator. HFC carries out the requirements analysis and works with the project partners to develop a solution concept for the user interface, which is evaluated in a final field study together with the partners of the consortium.