The interoperability, capability and quality of your services depend on the extent to which the standards and regulatory requirements of SWIM are met. m-click.aero provides guidance, principles, rules and recommendations to be used for modelling and service development.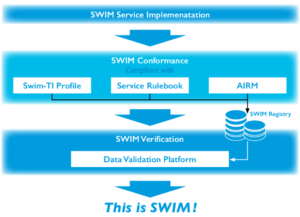 After successful implementation of SWIM standards and regulatory requirements, which will be documented in the SWIM registry, m-click.aero reviews SWIM conformance in compliance with SWIM TI Profile, Service Rulebook and AIRM.Verification of the SWIM service is done using our award-winning Aeronautical DataVali- dation Platform to technically check the data formats and business rules. m-click.aero certifies the compliance with an m-click.aero SWIM Compliance Certificate.
m-click.aero offers full support for the implementation of SWIM requirements and standards for your aviation service portfolio.
Preparation of preliminary and detailed design
Preparation of tender documents
Assistance during tendering process and supervision of works
Maturity and applicability assessment for the application solution stack you have chosen to implement your SWIM compatible service solution
Design and evaluation of SWIM compliant service metadata descriptions for service registry

SWIM Service Compliance Assessment based on following regulatory documents:
Specification for SWIM Service Description EUROCONTROL-SPEC-168
Specification for SWIM Information Definition EUROCONTROL-SPEC-169
Specification for SWIM Technical Infrastructure (TI) Yellow Profile EUROCONTROL-SPEC-170
The SWIM compliance assessment process was created in accordance with ISO 9001:2015.
Contact our SWIM experts today!
The assessment will be performed by the m-click.aero SWIM expert Aleksandar Balaban and m-click.aero CEO Matthias Pohl. Mail to solutions@m-click.aero
Or download the "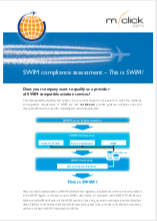 This is SWIM!" brochure in PDF format.