The powerful, easy to use Aeronautical Data Repository for all modern aviation data formats (AIXM, D-NOTAM, FIXM/GML, IWXXM). Build on top of our state of the art spatial database for aeronautical, weather and flight information management, the system can be expanded by additional modules for AIP text and chart generation, eAIP production and eTOD and digital NOTAM solutions.
A technological highlight is the m-click.aero Data Driven Mapping Engine, which is used to map the aeronautical data from different sources to the validated and verified data structures of the database.
The system provides a wide range of SWIM, XML and JSON output formats. It supports spatial and temporal queries and filters provided through an OGC compliant, open standards and SWIM compatible WFS 2.0 interface with WFS Temporality Extension (WFS-TE). In addition to the SWIM endpoints, an advanced GeoJSON API is available to supply mobile devices with aeronautical data.
Use Cases
The AIM Data Repository Solution for all Aeronautical Information Providers, Airlines, Airports and other Aviation Stakeholders.
Data repository for Aviation Data (AIXM, D-NOTAM, FIXM/GML, IWXXM)
AIXM 5.1 Repository for AIP Production Process, eAIP, eTOD and Digital NOTAM
SWIM based Data Exchange
Repository for Data Visualization and ASM/ATM Situational Awareness
SWIM Enabler for Legacy ATM Systems
Business Benefits
Cost-efficient Operation and reliable Data Provisioning
Easy SWIM Integration for Legacy ATM Systems
Cost-efficient Data Migration
Aeronautical Data Repository
The repository provides all data management features required from modern Aeronautical Information Systems. It is easy to use, reliable and high performant and can be seamlessly integrated into the SWIM Ecosystem.
Support for SWIM and GML Compatible Aeronautical Data Types
API with lightweight GeoJSON format for efficient data visualization
Spatial and Temporal Queries and Filters based on OGC Compliant WFS 2.0
WFS-TE Temporality Extension for On-the-Fly Timeslice Projection and Snapshot Generation
High Performance and Scalability thanks to the Optimized Internal Architecture
Notification Service Support and Continuous Automatic Data Import
Network Manager Gateway to access EUROCONTROL NM data
The repository is based on an advanced GML Framework that covers all aspects of modern data management including schema aware loading and publishing of complex aviation data. The data base offers an innovative feature oriented data store concept for optimized fast data access.
The Aeronautical Data Repository provides a SWIM compatible API Environment. Beside the OGC compliant WFS, WFS-T and WFS-TE Services, the services framework provides WPS, WMS and Event Services (AMQP), that can be consumed by Aviation Clients.
Try it today!
A demo service is available on the web. Please request your credentials at solutions@m-click.aero
Download the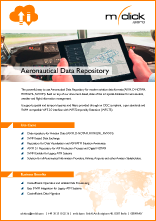 Aeronautical Data Repository brochure in PDF format.