Network Manager Gateway offers client access to EUROCONTROL NM data. It provides notification service support and automatic data import, clearance, enhancement, semantic validation and caching.
The gateway is equipped with a powerful OGC compliant WFS-TE interface to interact with Aviation Clients and the Aeronautical Data Repository.
Network Manager Gateway
The Network Manager Gateway features:
Support for CACD Static Data, CDR, RSA and FUA Regulations
Notification service support and automatic data import using AMQP
Data enhancement and caching
Seamless integration with other aeronautical data such as D-NOTAM
Uniform access via SWIM compatible WFS 2.0 interface
Fine grained data querying via WFS-TE spatial and temporal filters
The Aeronautical Data Repository is available both as cloud-based service and on-premise software.
Example Use Cases
Several examples from the ATM domain demonstrate the versatility of the Aeronautical Data Repository. In particular, the provision of geospatial and temporal query capabilities provides valuable enhancements for Network Manager data users.
ASM & ATM Situational Awareness, m-click.aero
MasterMAN Multi Airport Arrival Manager, Human Factor Consult
Lido/Flight 4D, Lufthansa Systems
GUIDOR Inflight Trajectory Optimization, SkyConseil
Try it today!
A demo service is available on the web. Please request your credentials at solutions@m-click.aero
Download the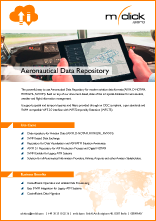 Aeronautical Data Repository brochure in PDF format.