m-click.aero GmbH and HFC Human-Factors-Consult GmbH will cooperate in order to provide state of the art situational awareness services for aeronautical traffic management in multiple airport control.
The companies will team up to combine m-click.aero's expertise in the area of SWIM enabled aeronautical data integration, processing and delivery with HFC's unique multi-airport control assistance MasterMAN®. With MasterMAN® HFC develops an innovative strategy and optimization tool, which supports air traffic and staff planning in multi-airport control operations. m-click.aero will provide the respective data integration and processing.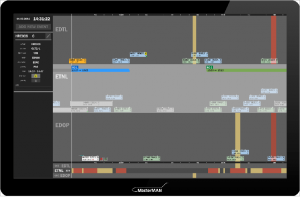 This collaboration comes at a crucial time considering that already in 2015 the Swedish ANSP LFV is the first worldwide who perform Remote Tower Services. With the extension of LFV's Remote Tower Center in February 2017, LFV can remotely control three additional airports from Sundsvall. During this spring, two airports will be connected and remotely controlled from Sundsvall.
The German air navigation service provider DFS Deutsche Flugsicherung equip Saarbrücken Airport with a remote tower solution. The go-live is planned for 2017, with the airports in Erfurt and Dresden to follow. All three airports will be operated remotely from a remote tower center located at Leipzig Tower. Main goal of DFS is to centralize multiple tower operations in this single remote tower center and to maximize the efficient use of the tower controllers.
In Europe alone, there are more than 240 small and regional airports with a traffic density between 100.000 and 2.000.000 passengers per year. This level of traffic density is appropriate for remote control operation and promises the largest efficiency benefits when applying Multi-Airport control.
To control several airports remotely by only one air traffic controller is the next step of development and becomes more and more apparent.
m-click's Aeronautical Data Integration Platform as a Service (iPaaS) solution integrates aviation data seamlessly across applications, processes and systems, quickly and cost-effectively – on premise, in the cloud and between aviation stakeholders. It supports open standards such as OGC and SWIM and therefore the interoperability between aviation formats and standards.
Consolidated aviation data provided by m-click.aero help out to to monitor the aviation traffic management process, providing a comprehensive data basis for collaborative decision making and improving situational awareness in the congested Europa's airspace.
About HFC Human-Factors-Consult GmbH
HFC specializes in designing and configuring technical systems and software interfaces in terms of usability, product experience, acceptance and safety. With an interdisciplinary team that brings together expertise from psychology, engineering, mathematics and computer science, problems of hardware and software adaptation to humans are solved. These include the evaluation of assistance systems in the vehicle and the investigation of fatigue measurability. Our customers come from the aerospace, automotive, and railway industries as well as the departments of safety and medical equipment. HFC GmbH, founded in Berlin, Germany is privately held. For more information visit http://human-factors-consult.de or contact us at masterman@human-factors.de.
About m-click.aero GmbH
m-click.aero is provider of a cloud-based Integration and Analytics Platform as a Service (iPaaS) solution for interoperable data integration that ensures the seamless flow of information across aviation SWIM and interconnected networks. m-click.aero enables its customers to easily and cost-effectively consume aeronautical, flight and weather data providing them implementing the SWIM paradigm, to the right place and at the right time, so they can easily communicate and coordinate with other aviation stakeholders. m-click.aero GmbH, founded in Berlin, Germany is privately held. For more information visit www.m-click.aero or contact us at solutions@m-click.aero.
Visit m-click.aero and ask for MasterMAN® at World ATM Congress, Madrid 7.-9. March 2017, Stand #137